Joined

Mar 30, 2017
Messages

2,836
Excellent thought!

I had purposefully chosen to stay out of this thread but Red's post has sucked me in and provoked this train of thought!

For both sides arguing about the deity of Christ...it's best to take a trip to the throne room in heaven to see what happens there. We have a faithful representation of what to expect when we get there!

Revelation chapters 4 & 5. (esp 4:9-10, 5:8,13,14).

The 4 living creatures described in Revelation also appear in chapter 1 of Ezekiel...described as Cherubim in chapter 10. If you feel so inclined, consider the throne room scene described in

Isaiah 6

as well as

Daniel 7:9-14

If Cherubim, that encircle God's throne, fall down in worship, day & night, before God and the Lamb then it stands to reason that Lucifer, as a guardian cherub

(Ezekiel 28:14)

, also used to fall down in worshipping Him

"who is before all things and in Him all things hold together." (Colossians 1:17)

Those not prepared to bow down and worship the Son of Man

(Daniel 7:14)

, just give us a heads up.

Study your bibles, people!
What's interesting is I am, and it's currently what my job entails as we counsel people who've fallen on hard times.
Jesus is not be worshipped, it's really that simple. He was sent to show us the way, as
@Todd
has often said. We
revere
Jesus because he's the Messiah, as it's explained, but his message was to worship the Heavenly Father and understand the "
Imago Dei
".
But as I've said, if those want to worship him, go right ahead, it's not about him, it's about the message he wanted to spread to the world.
EDIT:
I'll add this because this is what the trinity is implying. It's an oldie but still a goodie: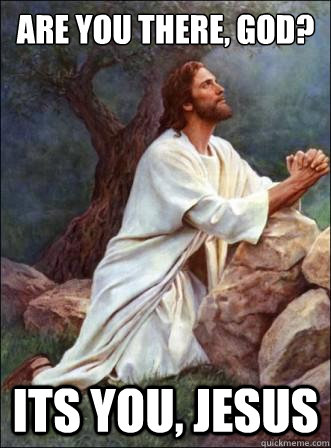 Last edited: