Israel accuses Sally Rooney of obstructing peace in the Middle East by refusing to publish a book
The Israeli Foreign Ministry accused novelist Sally Rooney of obstructing peace in the Middle East by refusing a…
tittlepress.com
Sally Rooney explained why she was boycotting Israel and not other nations.
Sally Rooney's decision not to allow an Israeli company to translate her new book into Hebrew has sparked controversy today. The well-known Irish author has decided to support calls for a boycott of Israeli companies on state policies towards the Palestinians.
Ronnie issued a statement to the media explaining his decision and stating that he would be "honored" to receive his latest novel.
Beautiful world, where are you?
One company has translated into Hebrew the "BDS Movement's Institutional Boycott Guidelines" and shares its position.
BDS, or boycott, distribution, ban movement.
"There is a campaign to end international support for Israel's oppression of the Palestinians and to put pressure on Israel to comply with international law."
Ronnie's last two novels,
Chat with friends
And
common people.
Modan, an Israeli-based publisher, translated into Hebrew, but the author rejected his request to do so with his latest work.
"First of all, I was very proud to have my last two novels translated into Hebrew by Kataria Benoit. I would like to thank everyone involved in publishing these books who support my work. It would be an honor for me to have the latest novel translated into Hebrew and available to Hebrew language readers.
"But for now, I have chosen not to sell this translation rights to an Israeli-based publishing house," Rooney said in a statement.
Free
.
But why did Rooney choose to boycott Israel and not other states that could be considered by the same logic to be involved in human rights abuses? The simple answer is that solidarity with the Palestinians is close to Ronnie's heart.
The 30-year-old admitted in a statement that she was aware of other global human rights abuses, but said the decision was a direct response to Palestinian calls.
"Of course, many states besides Israel are guilty of serious human rights violations," he said. This was also true during the anti-apartheid campaign in South Africa. In this particular case, I am responding to a call from Palestinian civil society, including all major Palestinian trade unions and Reuters unions. "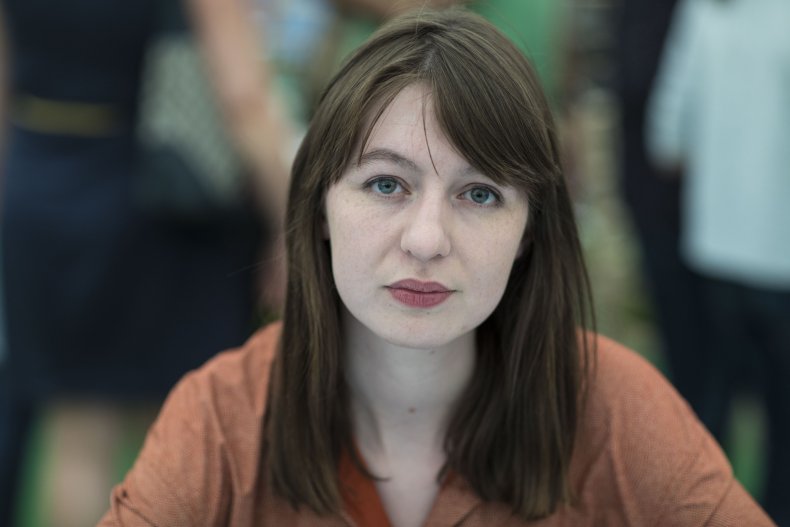 Sally Rooney, novelist, on May 28, 2017 at the Hay Fair in Hay, Y, UK.
David Levinson / Getty Images
Earlier this year, Ronnie was among more than 16,000 artists who signed a letter expressing solidarity with the Palestinians.
Title "
A letter against racism
"The movement calls for an immediate and unconditional end to Israeli violence against the Palestinians."
It is also worth noting that Rooney's stance is linked to Ireland's enduring support for the Palestinians, as many Irish believe that the two countries are engaged in a joint struggle against colonialism and oppression.
Ireland was first.
European Union
The country will declare that Israeli settlements in the Palestinian territories are in fact tantamount to annexation. In May 2021, the country's parliament (The Deal) voted unanimously.
Rooney said he could not accept a new deal with an Israeli company that did not publicly distance itself from color and did not support the UN-mandated rights of the Palestinian people.
The author concludes his statement by saying that the rights to translate his new novel into Hebrew are still available.
"If I can find a way to sell these rights in line with the BDS Movement's institutional boycott guidelines, I would be very happy and proud of it," he added. "In the meantime, I would like to express my solidarity with the Palestinian people in their struggle for freedom, justice and equality. Thank you."
Sally Rooney's decision not to allow an Israeli company to translate her new book into Hebrew has sparked controversy today. The well-known Irish author has
olxpraca.com