Joined

Jul 29, 2018
Messages

2,053
Is yours?
http://hushmoney.org/501c3-facts.htm
501(C)3 CHURCHES EXPOSED
THE REASON THAT PANSY YOU CALL "PASTOR" doesn't speak to politics, abortion - the cold blooded MURDER of innocent babies - is because he sold his soul for a 501(C)3. Time to get a clue.
http://safeguardyoursoul.com/501c3-churches-exposed/
501c3: The Devil's Church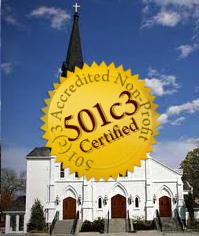 "It's been far too long that pastors, evangelists, deacons, elders, missionaries, and churchgoers have sat in ignorance on this matter, so read this carefully: You have a 501c3
INCORPORATED
status, which means your church is a
CORPORATION
of the state, and here is the message that I, lawyers, and the IRS are all trying to get you to understand about the contract you're under:
The creator of your church is the State.
The State is the sole authority and sovereign head over your church.
Your church is subject to the laws of the State which limits its powers.
Your church has no constitutionally protected rights.
Your church is an artificial person.
Your church submits to a State Charter declaring it is a creature of the State.
Your church is created for the benefit of the public.
Your church is a State franchise.
Your church is a privilege granted by the State.
(The word church can also be replaced with ministry or mission.)"
http://www.creationliberty.com/articles/501c3.php
"For the love of money is the root of all evil: which while some coveted after, they have erred from the faith, and pierced themselves through with many sorrows."
Last edited: