Joined

Mar 14, 2017
Messages

669
Please watch at least the first video if you haven't already seen; this is quite mind-blowing, a definitive candidate for VC's 'Sinister Sites' list.
---
https://en.wikipedia.org/wiki/Sphere_Within_Sphere
(Vatican)
(UN Headquarters, New York (which was financed by Rockefeller))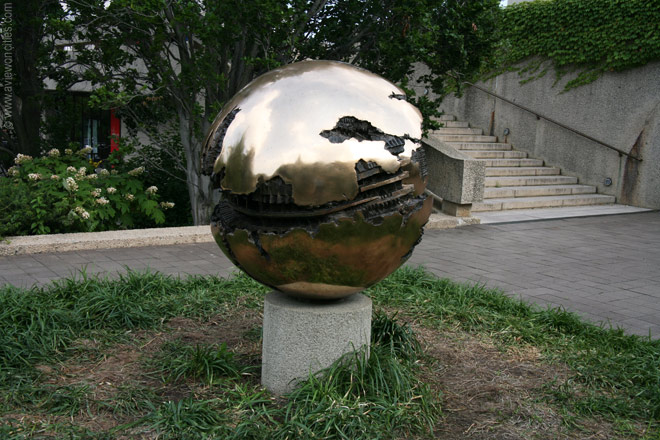 (Washington District of Criminals)
I already posted an article about Pomodoro's 'Sphere within Sphere' on old VC forums but can't find thread.
They have this sinister-looking thing in several very 'New World Order' locations around the world including the Vatican, UN in New York, Washington D.C. and Tel Aviv - even a copy in Tehran, further suggesting things are in no way what they seem. As I commented in the old thread, I find it highly suspicious the seat of spirituality high above anything on Earth with a direct link to God the Vatican perceives itself as would choose to feature the same artwork used in locations of profane, worldly power - this reeks of the whole 'one world' agenda. It also makes you wonder just who this Pomodoro character is who gets his [rather disturbing, sinister-looking] 'art' used in so many extremely high-profile locations around the world - imagine the sort of pay he will no doubt have attained from creating these hideous monstrosities.
https://en.wikipedia.org/wiki/Arnaldo_Pomodoro
---
Is it any surprise the Vatican now teaches things that are in direct contravention of Scripture?
The Church's relationship with the Muslims. "The plan of salvation also includes those who acknowledge the Creator, in the first place amongst whom are the Muslims; these profess to hold the faith of Abraham, and together with us they adore the one, merciful God, mankind's judge on the last day."[330]
http://www.biblelight.net/newcat.htm
I guess the dogma of salvation through Christ only just became too "inconvenient" in the modern multi-cultural world so they decided to get rid of it. Much easier paving the road to the New World Order when you don't let things like the actual Word bog you down, anyway.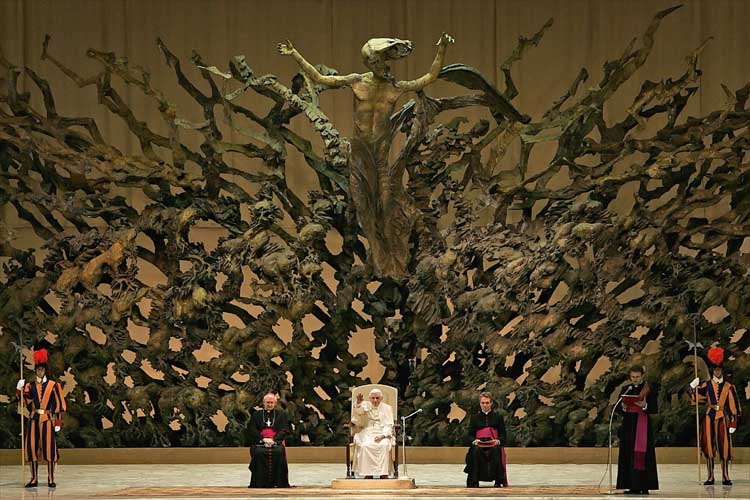 ... does this inspire religious fervor in you? This is what the self-proclaimed center of spirituality on Earth with unlimited funds chose to put up, of all possible things.
Apparently the Manu Cornuto is popular with the high clergy, too. :-( I don't think there's a high likelihood all of these are just by coincidence or that these supposedly educated men are painfully oblivious of the dual meaning of the socalled 'love' hand sign). This is the POPE, 'God's representative on Earth', doing it. Perhaps it's just me but I don't sense one ounce of genuine spirituality in these men.
... but of course all of these are just coincidences, sillies, and everything is fine in the Vatican banking state. Take off your tinfoil hats!
https://vigilantcitizen.com/latestnews/vatican-calls-for-a-central-world-bank/