Joined

Jul 29, 2018
Messages

2,053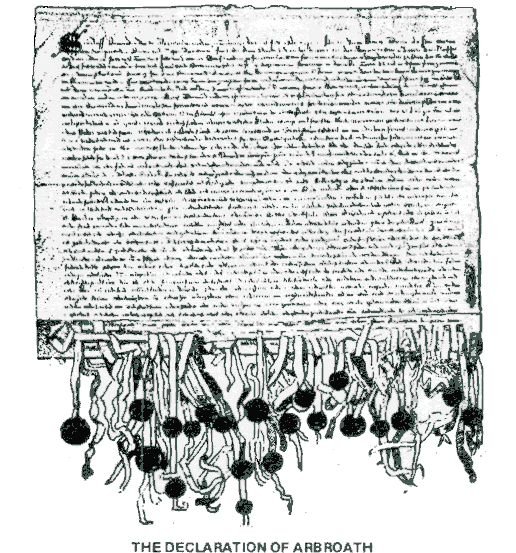 ​
"In Arbroath Abbey, following the removal of the "Stone of Destiny" to Westminster, king Robert "the Bruce" of Scotland was visited by two emissaries of pope John 22 to whom Edward 2 of England had appealed for help to compel Scotland to acknowledge England's lordship. These emissaries bore a message from the pope advising Bruce to submit to Edward's claims, but Bruce and his nobles drafted a letter which they addressed to pope John 22 and which can still be seen in Register House in Edinburgh. It had attached to it coloured ribbons and seals with the signatures of Robert the Bruce and twenty-five of his nobles. The letter which is drafted:- April 6, 1320, read in part:-​
​
"We know Most Holy Father and Lord (blasphemy - Matthew 23:9), and from the chronicles and books of the ancients gather, that among other illustrious nations, our's, to wit, the nation of the Scots, has been distinguished by many honours; which passing from the greater Scythia through the Mediterranean Sea and Pillars of Hercules (Gibraltar) and sojourning in Spain (Iberia - Heberia - the Hebrew's land) among most savage tribes through a long course of time, could nowhere be subjugated by any people however barbarous; and coming thence one thousand two hundred years after the outgoing of the People of Israel (the Exodus), they by many victories and infinite toil, acquired for themselves the possessions in the West which they now hold........In their kingdom one hundred and thirteen kings of their own royal stock, no stranger intervening, have reigned...." (Deuteronomy 17:14-20). ​
For so long as a hundred of us are left alive we will yield in no least way to English domination. We fight not for glory, nor for wealth nor honour, but only and alone for freedom, which no man surrenders but with his life." (Praiseworthy - Matthew 10:28)​
​
This letter thus asserts that the Scots who had the "Stone of Destiny" ("Lia Fail") were connected with the ancient people of Israel (the ten so-called Lost Tribes); whom archaeology has established became the Scythians and the Cimmerians of history, whose origin had been a mystery. Lost to their true identity as foretold in The Scriptures, (Romans 11:25), the Israelites migrated to their appointed place (2 Samuel 7:10); some crossing Europe by land, others by ships through the Mediterranean to the coast-lands of Europe and the Isles in the West. The Scots claim ancestry to the branch of the Cimmerians (Keltoi/Celts) that dwelt in Spain for a period, including at Zarah-gassa "Stronghold/fortress of Zarah", now called Zaragoza, and eventually came over to the Islands of Britain. They also claim that their royal line of kings (from Judah/Zarah of the Red hand - Genesis 38:30) has remained unbroken throughout their migrations.
​
​
Romans 11:25 For I would not, brethren, that ye should be ignorant of this mystery, lest ye should be wise in your own conceits; that blindness (as to their true identity) is happened to part of Israel (the ten "lost" tribes - the House of Israel), until the fulness of the Gentiles be come in.​
​
2 Samuel 7:10 Moreover I will appoint a place for My people Israel, and will plant them, that they may dwell in a place of their own, and move no more; neither shall the children of wickedness afflict them any more, as beforetime.​
​
Josephus, the historian, writing in A.D. 70, seems to have had knowledge of the migrations of most of the Israelites from Asia toward Europe, for, in his "Antiquities of the Jews" he writes: "...wherefore there are but two tribes in Asia and Europe subject to the Romans, while the ten tribes are beyond the Euphrates till now (A.D. 70) and are an immense multitude, and not to be estimated by numbers" (book 11, chap. 5). - JAH" ​
(Found under:
http://jahtruth.net/scotdec.htm
)
The custodians left the "fake" stone on the altar of Arbroath Abbey on 11 April 1951. -
"One final note: In the Scottish National Library there is a Gaelic manuscript (by Dugald the Scot, son of McPhail, in A.D. 1467) containing the complete genealogies of the Scottish kings, showing their descent through the Irish kings by way of Judah, Jacob-Israel and Isaac back to Abraham.
In Windsor Castle there is also a genealogical table showing the descent of the British kings from David through the Irish and Scottish lines. Thus the Monarchy existed long before there was a British Nation." Capt (p. 55)"
Source: http://jahtruth.net/stone.htm
Update
-
Scottish Sunday Mail article 29th June 2008
:-
Exclusive: Our dad faked Stone of Destiny, claim family of stonemason who repaired relic
THE children of a stonemason who repaired the Stone of Destiny have broken their silence to reveal they are convinced it IS a fake.
Bertie Gray mended the stone in 1950 after it was accidentally broken in two as it was liberated from Westminster Abbey by four students.
But his son Gordon and daughter Morag claim he made two elaborate replicas of the stone.
He broke both and fixed each of them with three bolts so it would be impossible to tell them from the original.
Gordon and Morag believe he switched the ancient stone for one of his fakes.
They say Bertie handed over the counterfeit to the students, who left it for police to find at Arbroath Abbey.
His children believe that is the stone which now lies in Edinburgh Castle.
Retired quantity surveyor Gordon Gray and his sister Morag Tait, 79, say their dad took the secret of the real stone's whereabouts to his grave.
They spoke out after seeing the premiere of Stone Of Destiny, the £6million movie about the raid starring Robert Carlyle and Billy Boyd.
Gordon, 77, said: "I suspect he hung on to the real stone and gave back a fake. My dad liked to fool people like that.
"He was planning to wait for the hue and cry to calm down then produce the real stone but he never did and when he died in 1975, the secret died with him."
On Christmas Day in 1950, Scottish students Ian Hamilton, Gavin Vernon, Alan Stuart and Kay Matheson reclaimed the stone from Westminster Abbey then smuggled it back to Scotland.
A police probe in 1972 concluded that the stone left in Arbroath was genuine but that verdict was based on X-rays which showed it had been broken and repaired with three bolts.
What they did not know was that Bertie had made two copies of the stone.
Gordon and Morag's revelation follows claims by First Minister Alex Salmond that the stone taken from Westminster was itself a fake.
The Stone of Destiny was used to crown Scottish kings at Scone before being stolen and taken to London by Edward I in 1296.
But Salmond believes the real stone was hidden by monks who fobbed off the English king with a counterfeit.
Gordon, of Garelochhead, Dunbartonshire, said: "We had to go and see the film to see what they had said about dad - and he did get a mention which was great.
"It brought back lots of great memories though we're still not sure exactly what our father was up to half of the time."
The family say Bertie was involved in a 1920s plot to repatriate the stone.
The plan was abandoned but he held on to a replica he had made to practise lifting and hiding it.
Gordon said: "He built a special wheelchair with a friend of his, with space at the bottom to conceal the stone.
"They practised with it in Glasgow beforehand, using a replica of the stone that dad had made. There was at least one replica in his yard in Sauchiehall Street."
When the students brought the stone back to Scotland they gave it to fellow nationalist Bertie to repair. Gordon said: "He was a character and it would amuse him to bamboozle people."
Morag has inherited a pendant which her dad set with a chip of sandstone he said came from the genuine stone.
She said: "He would gather up little bits of gravel and put them in his pocket.
"He'd give them to people saying they were from the Stone. But as far as we know, the piece in my necklace is real."
The Stone, restored to Westminster after the raid in 1950, was finally returned to Scotland in 1996. Scots author Dr Edward Chisnall, 65, backed up the family's claims.
He said Bertie's nephew Sandy Black had told him two fakes had been stored under his dining room table in Glasgow.
But he could not pinpoint the resting place of the genuine stone.
He said: "Even if I did know, I wouldn't tell you. But it's maybe somewhere not too far from where it should always have been.
"It's nice, the idea of things coming home, isn't it."
'I suspect dad kept the real stone and gave back a fake. He liked to fool people'
* - The Declaration of Arbroath also has fringes on the bottom which is yet another historical link for the Scots that goes back to God's Law :-
Numbers 15:37-41
and
Deuteronomy 22:12
Last edited: