Joined

Mar 18, 2017
Messages

4,056
It wouldn't surprise me if Trump did win a second term if he keeps up the good work. His approval rating is up to 51% because of this whole thing, which makes me sick. However, he is fast losing the support he had when he ran for president. Some conservative groups are not happy with this. I supported Rand Paul until Trump won and then went with the Libertarian party at that point, but the whole thing is a circus really at this point.
https://www.rt.com/usa/424308-trump-approval-rating-rasmussen/
Not to mention that there is no evidence of chemicals present at the sites we bombed.
"An engineer at the now-bombed-out research facility north of Damascus, which the US claims was the heart of Syria's chemical weapons program, says the labs were making medicine and testing toys for safety.
RT Arabic correspondents have visited one of the main targets of the US-led missile attack on Syria, the Scientific Studies and Research Center in the Barzeh district in northern Damascus. The three-story building was pelted with 57 Tomahawk missiles launched from US warships and 19 air-to-surface missiles, the Pentagon said.
The massive bombardment left it lying in ruins, with its walls and roof almost completely collapsed and lab equipment scattered around.
The morning after the strike, several media outlets, including RT, AFP, CBS News and others were given a tour to the former research facility, now little more than a pile of rubble.
Read more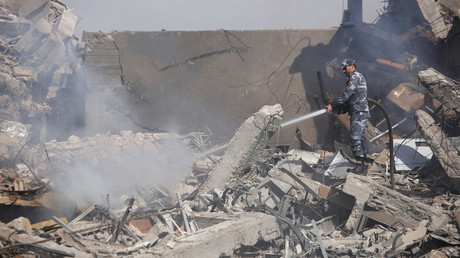 Caught in a lie, US & allies bomb Syria the night before international inspectors arrive
Said Said, an engineer at the facility, told RT Arabic that the very fact that such a trip was possible should serve as an evidence that no chemical weapons program was run at the site.
"You can see for yourself that nothing has happened. I've been here since 5:00 a.m. No signs of weapons-grade chemicals,"
he said. The researcher said he had worked at the facility for decades, and it used to develop medicine and household chemicals."
https://www.rt.com/news/424228-syria-strike-civilian-research-facility/
It is all such a joke. What I would really hope will come out of this is that the American public will grow a spine and become even more willing to vote for a 3rd party. It was disturbing to see that so many people depended on the idea that only Clinton or Trump were viable candidates to win and allowed it to create the division that it did.
Sanders would be doing the same thing Trump is doing right now and caving to the warmongers trying to transfer power to Israel. The only way to really challenge this would be with a majority vote for a 3rd party candidate to subdue the division the warmongers have created and present a legitimate possibility of regaining control. Almost like a second Boston Tea Party. Numbers matter to these people who are in control and if you can gain numbers for a cause that they do not have control over, then this creates a threat.