Joined

May 20, 2017
Messages

5,915
Nassim Taleb: Covid-19 brought socialism to America
For video go to the link: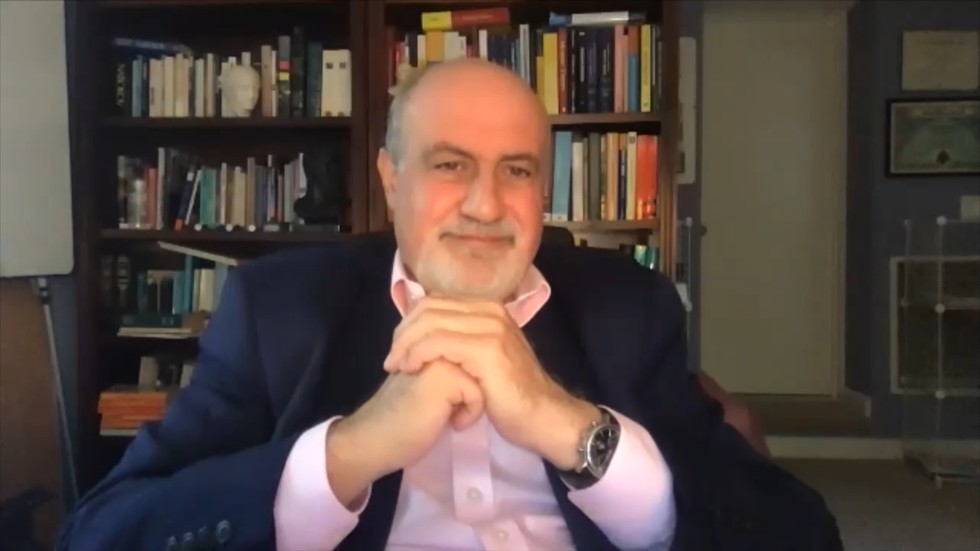 The Covid-19 pandemic came as an external shock, almost unprecedented How can we navigate the uncertainty of the post-pandemic future? We talked to the author of bestselling books 'The Black Swan', 'Antifragile', and 'Skin in the Game', risk analyst Nassim Nicholas Taleb
www.rt.com
Discusses masks, vaccines, , the importance of localism and the importance of making lemons out of lemonade (important mindset) less travel but travel being still available, a more cautious globalism with less connectivity but still the ability to travel etc.
Excerpts:
SS:
But will they really be smarter, you think? Because I'm looking back at SARS outbreak and had we paid more attention to it and got the vaccine back then it would have been so much easier to get the vaccine done for COVID-19 now. It seems like we don't really learn that much from our mistakes, do you really think it's gonna…?
NT:
The vaccines are not the solution, by the way, connectivity is the solution because we're still waiting for an HIV vaccine. So, whenever you discuss medical improvements, these take a lot of time. And it can happen on an unpredictable pace. So if I say, when did HIV, AIDS started? About 35-40 years ago? No vaccines yet. Treatments - maybe, no vaccines. So you can have more steady improvement in treatments. We may have a vaccine tomorrow, it's like winning a lotto, and even then vaccines may prove to be short-term effective, you know, not long-term effective because, as you know, things mutate. So I think a more robust world will be one in which we do business as usual. But guess what? We're prepared for quarantines. Quarantines are a lot cheaper, reduced mobility of the germs - it's a lot cheaper than having lockdowns. We lost trillions from lockdowns, it's vastly cheaper. So [we need to] have some measures for that.
NT:
No, you will still have business travel but for me to go... You know, I don't mind going to…
SS:
Georgia.
NT:
...or Moscow once a year and having my pelmenis and all this... I love the food. I don't mind going once a year and then spending more time there. But travelling, you know, back and forth because there's a conference or something - I won't do that anymore. I will reduce - myself - my travel. Zoom will not be able to replace everything. You still need to meet people face to face.
SS:
You've got to eat pelmeni somehow. You can't do it via Zoom.
NT:
Exactly. So on the other hand, there'll be a reduction, but I think academia is going to suffer the most in countries like the United States where the things are over-optimised.
SS:
Okay, so one of my favourite Russian neuroscientists Tatiana Chernigovskaya, I don't know, maybe you even know her, she spoke to me recently and she says that uncertainty is the most frightening thing for human psyche. And since this crisis has brought us up to like a whole new level of uncertainty, she says, these are the things that will help us through: curiosity and empathy. Do you agree?
NT:
Let me tell you what happened. There are two kinds of people. The first kind of people say, oh, things are bad, I'm gonna stay home and cry and wait for things to get better, like for example, an Uber driver can say okay, there's no Uber driving. Or another friend of mine who was an Uber driver or someone who drove me around, he converted. He decided to start a delivery service. He says, people, you know, they're buying food, they don't want to wait in line in the supermarket. He's making twice as much money. Twice! So some people are making lemonade out of lemons. I don't know how to translate it to Russian but there've got to be an expression like that. Life gives you lemons - you make lemonade. And other people are suffering. And the government's have been extremely helpful for citizens. Who would have thought that the first socialist president of the United States would be Donald Trump? He gave people universal basic income for a few months, and they took possession of companies. If that's not socialism, I don't know what is socialism. So, the individuals got a protective net that they didn't have before. So it is mixed. What I'm telling you is that there are bad news and good news. There is a lot of uncertainty here, maybe less here, but it is mixed. The story is never one way. When you see an event like that, the first thing - and that's anti-fragile - the first thing you've got to do is say, how can I make lemonade out of this lemon? So for example, a group of friends and I are starting a thing, sort of like maybe a university that's offline, giving certificates or encouraging others. And that's a product of that pandemic. So for us, it is a business creation opportunity. For many it is a business creation opportunity. But if you're an employee of a travel agency and you want to wait for things to come back, that's not the right approach. So some people are suffering and others are going to help... And anyway, the governments have been propping up people who, you know, were desperate because they had no way to pull out of this by themselves. But mark my words, if you want a headline done - "Who would have expected the COVID to run both domestic and foreign policy?", "COVID to bring socialism to countries like the United States".
Also important video to re-post to this page:
MIRROR Harry Vox 2010 Rockefeller "Scenarios for Future Tech " And Dead Zone 2003 Ep Hydroxychloroq
Last edited: