Joined

Mar 18, 2017
Messages

2,733
Likes

5,275
It isnt college or social media thats the "problem" - its parents. We shelter these kids, hover over them, dont teach them independance or responsibility or consequences for actions then they turn 18 and we are convinced by some miracle they are just going to morph into responsible adults.

We send off children that have never had an independant thought in their life, never had a resposibility, never had a significant consequence to college with no adult supervision or accountability and then act surprised when they indulge their more base instincts? We are the ones with a problem..
So true. Your account reminds me of a story my friend, who teaches public high school, told me years ago. She said there was this teenager who had such a lackadaisical approach to his school work, and was somewhat arrogant about it because he knew his mum would come to his rescue if he was ever told to do otherwise. Even though my friend gave him failing marks for not completing his assignments, his mum would march down to the school in his defense and give all the teachers an earful for not giving him passing grades because she wanted him to go some prestigious university once he was finished high school. While my friend and the other teachers would give him failing marks, the principal got tired of the mother griping about her son's marks and told the teachers to pass him so they all didn't have to deal with the mother. Begrudgingly, the teachers gave him passing marks to end the drama with the helicopter mother and her indolent son.

Now here's the kicker: Once he graduated, the teenager was able to get into the university his mother wanted him to attend. However, due to him not having any self-discipline and prior knowledge in any topics, he didn't understand or complete the work assigned. Unbeknownst to the mother, the kid pretended to go to school for at least ½ of a semester, and it wasn't until the university called asking his whereabouts, did the mother find out he wasn't attending it. Added to the fact, it was too late in the semester for him to officially drop out and get a refund, the mum ended up losing $15K.

The karmic element in this was so potent that my friend and I couldn't stop laughing. However, it clearly shows how parents today are willing to coddle their children at their own expense. Sadly, this kid never knew what it was like to ask more of himself and be in the frame of mind to challenge himself to learn.
How
To Land Your Kid in Therapy
...and the societal changes that have led to this mess.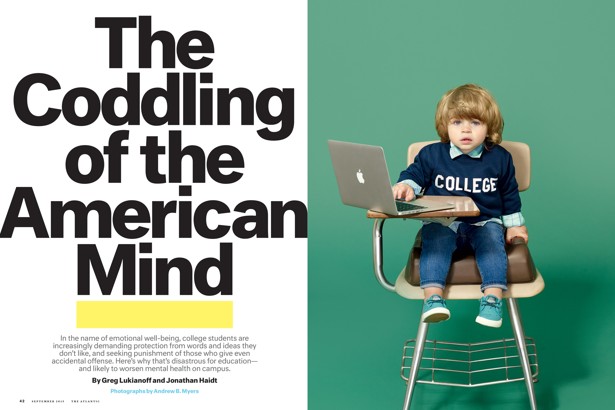 The
Coddling.