Joined

Mar 14, 2017
Messages

524
Likes

1,445
There are a number of sources making the argument that Islam is the 'beast' spoken of in the Bible. Needless to say, a thread such as this is going to cause controversy. My motivation for posting this thread is not to stir up hate but to open debate. I shouldn't even have to point this out (or potentially receive death threats from 'religion of peace' followers) but that is how these threads have gone this far. From the perspective of Christians, it is just as 'insulting' to claim Jesus Christ is not the Son of God... but being triggered by these things is rather childish in the first place? Nobody wishes to worship Satan so let's be reasonable here, put identities aside, and just look at the material?
source:
https://pt.slideshare.net/charlesmartel1974/the-mark-of-the-beast-30685111
These are not exactly similar but I find it very strange indeed that there would be so much resemblance between the Greek numerals for 666 mentioned as the Mark of the Beast in the Bible and the Bismillah supposedly being revealed by the same God more than 600 years later. Out of all the possible shapes and forms, what are the chances?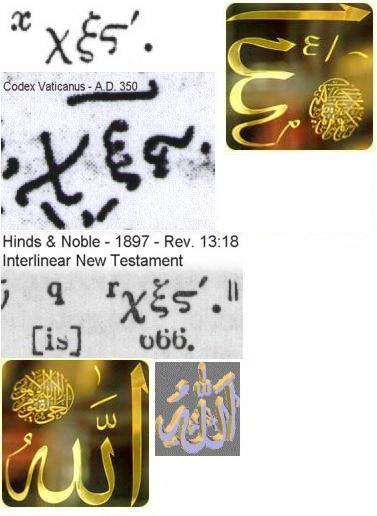 beholdthebeast website said:
Below (left) are photos of Greek symbols translated in the Bible as 666, from Free Jesus.net: The gold symbol (bottom and right) is Arabic for "Allah" when turned and mirrored. Additionally,
crossed swords
are a symbol for Islam.
So in 666 we may find symbols for both "Islam" and "Allah".
---
Looking at the calligraphy, it seems to me there are
sixes
everywhere in the names and words relating to Allah. This also seems strange to me.
'Allahu Akbar Mosque'
6... and 13?
Then, there's the black cubes - Islam's cube supposedly having nothing to do with the Black Cube of Saturn that all the others represent. There are black boxes existing in Islam, Judaism, Freemasonry and at the UN:
(UN prayer room)
(Masonic 'Perfect Ashlar')
A key difference between Christianity and Islam is the question of how
salvation
is achieved.
In Christianity
,
no good works will save you
. A human being is hopelessly flawed before perfect God and can never redeem himself by his own power. Salvation is by
grace through faith
, only - but faith will then
produce
good works, following the change of heart associated with genuine repentance. You either believe Jesus Christ died for your sins, or you don't - and this will then affect your behavior.
In Islam
, according to Mohammad but contrary to the doctrine preached by Jesus, you
are
saved (or not) depending on your
works
.
For by grace are ye saved through faith; and that not of yourselves: it is the gift of God: Not of works, lest any man should boast.
(Ephesians 2:8-9)
+
Allah has promised those who believe and do righteous deeds [that] for them there is forgiveness and great reward.
(Al-Ma'idah, Surah 5:9)

This is a very big difference, and a supposedly very big change of mind over a span of some ~600 years by an unchanging God. In Islam, it does mean that even if one does believe - but then fails to do good [enough] works, for one reason or another - one's salvation is possibly in jeopardy. It indirectly means life is a constant struggle because one is at any time in danger of never-ending torment and hellfire if one fails to perform.

There are many more examples of significant doctrinal changes ordered by the supposedly same deity:

You have heard that it was said, 'Love your neighbor and hate your enemy.' But I tell you, love your enemies and pray for those who persecute you, that you may be sons of your Father in heaven. He causes His sun to rise on the evil and the good, and sends rain on the righteous and the unrighteous. If you love those who love you, what reward will you get? Do not even tax collectors do the same? And if you greet only your brothers, what are you doing more than others? Do not even Gentiles do the same?
(Matthew 5)

+

And kill them wherever you overtake them and expel them from wherever they have expelled you, and fitnah is worse than killing. And do not fight them at al-Masjid al- Haram until they fight you there. But if they fight you, then kill them. Such is the recompense of the disbelievers.
And if they cease, then indeed, Allah is Forgiving and Merciful.



Fight them until there is no [more] fitnah and [until] worship is [acknowledged to be] for Allah . But if they cease, then there is to be no aggression except against the oppressors.



[Fighting in] the sacred month is for [aggression committed in] the sacred month, and for [all] violations is legal retribution. So whoever has assaulted you, then assault him in the same way that he has assaulted you. And fear Allah and know that Allah is with those who fear Him.


(Al-Baqarah, Surah 2:191-194)

So, according to Islam:

You have heard that it was said,

1) 'An eye for an eye and a tooth for a tooth.'
---> 2) But I say to you, Do not resist the one who is evil. But if anyone slaps you on the right cheek, turn to him the other also.
----> 3) So whoever has assaulted you, then assault him in the same way that he has assaulted you. (ie, an eye for an eye and a tooth for a tooth, again!!!)

---
The Jews say, "Ezra is the son of Allah "; and the Christians say, "The Messiah is the son of Allah ." That is their statement from their mouths; they imitate the saying of those who disbelieved [before them]. May Allah destroy them; how are they deluded?
(At-Tawbah, Surah 9:30)

:-(

OK, enough of this. I just wanted to share the pictures and videos describing the alleged 666-Islam connection.



http://www.beholdthebeast.com/islam__quran_and_666.htm
https://thereligionofpeace.com/pages/articles/jesus-muhammad.aspx