Joined

Oct 10, 2017
Messages

857
Likes

637
(The excerpts below, along with the title, were copied as-is from the source article. I've not read the book, but it looks like potentially good information.)
Nina Teicholz's 2014 book The Big Fat Surprise: Why Butter, Meat & Cheese Belong in a Healthy Diet is a bestseller that continues to get kudos for its meticulous research, engaging writing and iconoclastic takedown of the 60-year war against dietary fat.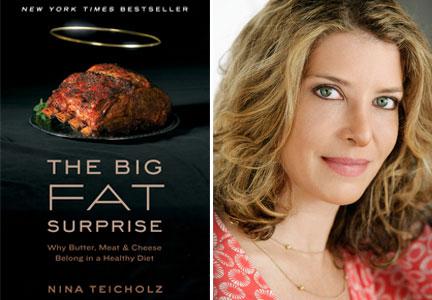 "A 2003 piece on trans fats for Gourmet
was a blockbuster, gaining wide circulation and garnering her a six-figure advance for a book on trans fats.
Looking back, Nina is very grateful that she spent the first three years of her research "entering in through the trans fat door, getting to know all about the vegetable oil industry." Industry executives were very open to her. "I had wide open access because at that point, I was just learning. I asked for people's time and they gave it. No battle lines had yet been drawn."
This research gave her an unique understanding about the power of the vegetable oil industry and how it had manipulated nutrition science--in particular, the "diet-heart hypothesis," which holds that saturated fat causes heart disease. She even learned that Proctor & Gamble, the makers of Crisco Oil (a hardened oil with trans fats), helped raise millions of dollars which enabled the American Heart Association to go from a small volunteer organization to a national powerhouse.
"I got to understand the magnitude of the vegetable oil industry and how important the demonization of saturated fat was to them. How much they had influenced the science, funded the science. How powerful they were," said Nina.
I would get off the phone and be shaking, like, I am investigating the underworld?..."
..."Her book and its resulting influence on the heated debate around nutrition has led her to be a target for critics, some who have attacked her personally with vicious name-calling and angry statements.
"What Nina Teicholz has done and continues to do is very brave and very important. The resistance she has faced and the personal attacks have truly been remarkable," says Dr. Andreas Eenfeldt, founder of
Diet Doctor
. "For example, a high-profile MD affiliated with Yale called her "shockingly unprofessional", "an animal" and more in a
Guardian
article. But he failed to provide any examples of this unprofessional behavior, despite several requests from the journalist. I think many experts have been living comfortably in dogma for decades. When they get intellectually challenged by a woman, a journalist, and they fail to find any good arguments, some of them just lose it, and lash out at her. The truth is often inconvenient and uncomfortable."
The personal attacks have been difficult, says Nina. "On the one hand, the attacks are painful and hurtful, but at the same time, you know that if they are attacking you personally it is because they cannot attack you substantively. One has to stay above the fray and not stoop down to their level of name-calling. Their level is so low, it's embarrassing - and it certainly doesn't help the scientific discussion."
Since 2004, she herself has embraced the low carb, high-fat diet. Now she relishes juicy steaks, plenty of cheese, and lots of butter -- and feels at her healthiest, and effortlessly at the thinnest, of her entire life.
"Everyone who switches to this diet just marvels at how delicious all this food is that has previously been forbidden. It is an incredible liberation to not be counting calories and to live in a way where food is no longer your enemy. I really would have appreciated knowing all of this when I was a young woman when I always wanted to be thin and 10 pounds lighter." ... -
source
Last edited: