Joined

Apr 6, 2018
Messages

952
Enfin, j'ai finit la première partie:
Finally, I finished the first part: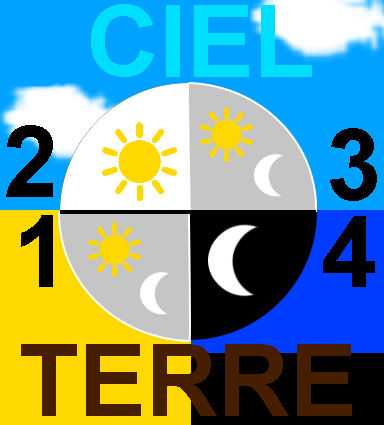 CYCLES AND ELEMENTS: Français en blanc, English in red Les deux formes, qui ont inspirés la devinette suivante sont: l'auto analyse de l'Homme, de son propre cycle continue, traversant la...
mysteriesofworld.eklablog.com
Dans la second partie, je vais mettre la référence des dieux par rapport au cycle. Où de le symbole, qu'ils utilisent pour la pédophilie, est une représentation de la montée de l'âme, la forme (interne), ce ce que les Egyptiens utilisait pour monter les pyramides.
In the second part, I will put the reference of the gods in relation to the cycle. Where of the symbol, which they use for p***philia, is a representation of the rise of the soul, the (internal) shape, what the Egyptians used to climb the pyramids.
Pour ceux qui peuvent pas accéder à mon blog:
Les deux formes, qui ont inspirés la devinette suivante sont: l'auto analyse de l'Homme, de son propre cycle continue, traversant la ligne du temps. L'autre est la planète, qui tourne en rond trois-cent-soixante-cinq jours par ans:
"Qu'est-ce qui marche à quatre pattes le matin, à deux pattes à midi, et à trois pattes le soir?" Réponse: "L'Homme". Alors qu'à minuit l'âme est séparée du corps.
Mais... si le cycle ne comportant que ces quatre quarts, portent à chaque quart, un moment ou période de la vie humaine. Dans le cas où le cycle de la vie prend la forme d'un huit ou la forme du signe de l'infini. Tout en ayant, pour la mère, la possibilité de coucher au quart d'avant, si ce n'est à la transition. Lorsqu'elle tombe enceinte, à la fin du cycle, entre, comme au premier carat de la vie de son fils. Et qu'elle consacre une partit de sa vie à protéger et éduquer son enfant. Qui a besoin d'autonomie, jusqu'à devenir un peu avant, pendant ou après le zénith, indépendant. Jusqu'à la fin du troisième quart, où il rencontre... et ira avec sa petite amie, commencer à la fin du premier cycle: par reproduire l'acte sexuel. Dès, qu'elle tombe enceinte. S'occupant au second: de son fils qui devient solitaire, avant pendant ou après le zénith. Jusqu'au jour où il rencontre au troisième quart, sa petite amie. Va parallèlement: revenir pour s'occuper de sa mère, qui proche de la mort. Ainsi au dernier quart: alors que les enfants s'unissent, les parents meurent. Leurs esprits montent au ciel, au moment choisit de ce quart, en abandonnant leurs corps, à la dégradation. Puis reviens immédiatement ou non, dans le prochain corps lorsque c'elle qui sera la nouvelle mère, tombe enceinte.
Unis dans la mort, ils sont aussi symboliquement séparables (la femme représentatrice du corps serait enterré, alors que l'homme représentant l'esprit, s'élèverait). Une division commune et représentatrice de l'univers: au cycle du Yin et du Yang ou du nombre d'or. Tout comme le cycle représentant la position des étoiles, est divisible, en deux par le Yin et Yang ou en quatre par les quatre saisons. Le côté féminin et donc la matière est le Yin, qui démarre au début de l'équinoxe du printemps et finit à la fin du solstice d'été. Alors que le Yang, représente le masculin et donc la lumière qui démarre au début de l'équinoxe d'automne et finit à la fin du solstice d'hiver. Si la répartition, décrivait tout d'un coups le corps physique: le Yin remplacerait le Yang: la femme serait avec son physique léger, de même que la lumière, est une matière légère. Alors qu'intérieurement elle porte l'ovule, la matière de la vie et à le mental le plus solide. Inversement, l'homme serait le Yang, car il est physiquement fort. Alors qu'il porte les spermatozoïdes, la vie, (la lumière qui agis sur la matière, l'ovule), comme il est mentalement faible.
Le visage symbolise, comme le corps, chaque quart: L'oeil gauche comme la partie gauche du corps, absorbent. L'oeil et la partie droite donne. Tout deux passent ou non par le troisième oeil (la glande pinéale), qui est la maison de l'esprit. Ils sont suivit par le nez qui permet de respiré, est donc lié au vent. La moustache représente (la partie entre le nez et la bouche) représente le brouillard du matin et soir.Et la bouche, au gouffre, au lac de la fin du troisième au début du quatrième quart. Mangeant, la nourriture (comme le serpent, à la tête du premier quart, ou du dernier), laisse le premier avec les grottes (qui est devenue, au fil du temps, du terreau).
Après l'auto étude de l'Homme, l'étude des plantes s'accompagnent de l'étude planétaire. Ainsi, lorsque la planète terre se réchauffe ou se glace pendant la journée, l'année ou des milliers d'années. Malgré, que l'univers aurait été composer d'une seul matière: une matière noir solide et non actif. La seconde matière, née de la précédente: est la matière blanche, actif et légère. Ainsi, sur la planète terre, ces deux matières, se divisent au nombre de quart du cycle classique: avec l'élément de la terre (sable ou poussière) qui est asséché, par le feu. Le vent ramène l'eau et finit de différentes façons: la première est l'eau ou la glace ou encore l'eau puis la glace (qui redevient de l'eau à la fin du quart). Un cycle renouvelable et égale au cycle de l'arbre qui lui même est égale au cycle de l'Homme. Commençant par la graine (le spermatozoïde chez l'Homme) qui est plantée en pleine terre (l'ovule). La terre (l'ovule ou encore l'oeuf), allant en raison du second quart, s'assécher (pour l'oeuf: la réserve de blanc est vidée), par le feu. Qui est lié au soleil, qui va après avoir traverser le zénith, perd de son intensité lumineuse, rafraichissant l'aire. Jusqu'à provoqué la pluie, ce qui fertilise les sols, du quatrième quart, allant jusqu'à la noyade. Ce qui créer à la fin de ce dernier quart,; une réserve d'eau qui restera malgré l'assèchement du sol, au premier quart, tout en aidant la graine à s'enfoncer. S'alimentant. de l'eau comme de la terre, l'arbre peut enfin au second quart se nourrir du soleil avec l'apparition de ses jeunes feuilles au second quart. Où, il deviendra un magnifique arbre au zénith. Puis viendra la période de dégradation de l'arbre ou de ces feuilles. L'arbre grandit sur le cycle des saisons: recommence à nouveau: le cycle qui redémarre au printemps... si l'arbre est toujours vivant... les fleurs s'ouvrent. En été, apparaissent les fruits et légumes. Alors qu'en automne les fruits tombent. Jusqu'à finir, soit par laissé l'arbre se reposé en hiver, soit il meurt.
Parmi les plantes, le passage d'une journée,: est représentée par la fleur. Qui s'ouvre le matin et ce ferme, le soir. Une journée qui dès l'aurore, pendant les six heures du matin: le soleil prend de l'ampleur. Il ira jusqu'au zénith pour dominer la matière. Puis il finit, redescendant, pendant ses six heures de temps Au point qu'il disparaitra, derrière l'horizon. Formant, ainsi le tout premier quart de douze heures. Qui permis de créer, la première horloge, qui fut le cadran solaire. Ainsi au quatrième quart, la lune prend sa place. Va effectué, le même parcours, dans le ciel, que le soleil. Et va passé se dernier quart, comme tout les autres, sur une durée de six heures. Puis à minuit pile, dès le premier quart de la journée, elle ira se couché.
Sur une année: aura lui, le même nombre de mois que d'heure sur une horloge (du au cadran solaire). Le premier quart est remplacé, par le printemps. Le second quart est lui, remplacé, par l'été. Le troisième, par l'automne et l'hiver, va au quatrième quart (ce qui s'associe, à l'acte, lorsque, la chaleur, revient, au milieu de ce quart, ou au changement de saison).
Les quatre quarts sont globalement représenter par une ou plusieurs couleurs: La couleur rose est la première des couleurs. Le rouge (la couleur du second quart) et le blanc (la couleur du troisième quart) recouvre leur mère. La couleur des deux fils donnent le rose. La couleur symbolise l'acte sexuel: où la déesse mère, la matière, reçoit la lumière. La couleur suivante est le jaune, la couleur du soleil. Le recouvre la mère, lui donnant sa couleur. Alors que le premier quart, est celui de la terre, de couleur marron. La couleur rouge fait référence au soleil brulant qui associer avec le second quarts entre le premier et second quart: la couleur orange; la couleur de l'Homme. Le troisième quart porte la couleur blanche, celle du soleil au zénith ou la couleur verte celle de l'ouroboros. Le cycle finit par le quart de la mère, avec pour la première partie, celle de l'eau, qui est suivit par la seconde partie, qui se trouve soit en. dessous soit entre dernier et premier quart il porte la couleur noir, la couleur de la mort. La couleur violette est l'association de la couleur du second quart et de la première partie du dernier quart.
For those who cannot access my blog:
The two forms that inspired the following riddle are: Man's self-analysis of his own continuous cycle, crossing the timeline. The other is the planet, which turns in circles three hundred and sixty-five days a year:
"What walks on all fours in the morning, on two legs at noon, and on three legs in the evening?" Answer: "The Man". Whereas at midnight the soul is separated from the body.
But... if the cycle comprising only these four quarters, brings to each quarter, a moment or period of human life. In the case where the cycle of life takes the shape of an eight or the shape of the sign of infinity. While having, for the mother, the possibility of sleeping at the quarter before, if not at the transition. When she becomes pregnant, at the end of the cycle, enters, as in the first carat of her son's life. And that she devotes part of her life to protecting and educating her child. Who needs autonomy, until becoming a little before, during or after the zenith, independent. Until the end of the third quarter, where he meets... and will go with his girlfriend, start at the end of the first cycle: by reproducing the sexual act. As soon as she gets pregnant. Taking care of the second: of his son who becomes solitary, before during or after the zenith. Until the day he meets in the third quarter, his girlfriend. Goes parallel: to return to take care of his mother, who is close to death. So in the last quarter: as the children unite, the parents die. Their spirits rise to heaven, at the chosen moment of this shift, abandoning their bodies to degradation. Then come back immediately or not, in the next body when she who will be the new mother, becomes pregnant.
United in death, they are also symbolically separable (the woman representing the body would be buried, while the man representing the spirit would rise). A common and representative division of the universe: in the cycle of
Yin
and Yang or the
golden ratio
. Just as the cycle representing the position of the stars, is divisible, in
two
by the Yin and Yang or in
four
by the four seasons. The feminine side and therefore matter is Yin, which begins at the beginning of the spring equinox and ends at the end of the summer solstice. While the Yang, represents the masculine and therefore the light which starts at the beginning of the autumn equinox and ends at the end of the winter solstice. If the distribution, suddenly described the physical body: Yin would replace Yang: the woman would be with her light physique, just as the light, is a light matter. While within she carries the ovum, the matter of life and the strongest mind. Conversely, the man would be the Yang, because he is physically strong. While he carries the sperm, the life, (the light that acts on matter, the ovum), how weak he is mentally.
The face symbolizes, like the body, each quarter: The left eye like the left part of the body, absorbs. The eye and the right part gives. Both pass or not through the third eye (the pineal gland), which is the house of the spirit. They are followed by the nose which allows breathing, is therefore linked to the wind. The mustache represents (the part between the nose and the mouth) represents the morning and evening fog. And the mouth, at the abyss, at the lake from the end of the third to the beginning of the fourth quarter. Eating, the food (like the snake, at the head of the first quarter, or the last), leaves the first with the caves (which has become, over time, compost).
After the self-study of Man, the study of plants is accompanied by the planetary study. So, when planet earth warms or freezes during the day, year or thousands of years. Despite, that the universe would have been composed of a single matter: a solid and non-active black matter. The second matter, born from the previous one: is the white matter, active and light. Thus, on the planet earth, these two matters, are divided at the number of quarters of the classical cycle: with the element of the earth (sand or dust) which is dried up, by fire. The wind brings the water back and ends up in different ways: the first is water or ice or again water and then ice (which becomes water again at the end of the quarter). A renewable cycle and equal to the cycle of the tree which itself is equal to the cycle of Man. Starting with the seed (the sperm in humans) which is planted in the ground (the ovum). The earth (the ovum or the egg), going because of the second quarter, to dry up (for the egg: the reserve of white is emptied), by fire. Who is linked to the sun, which goes after having crossed the zenith, loses its luminous intensity, refreshing the air. Until caused the rain, which fertilizes the grounds, of the fourth quarter, going until the drowning. What create at the end of this last quarter,; a reserve of water which will remain despite the drying out of the soil, in the first quarter, while helping the seed to sink. Feeding. water like earth, the tree can finally feed on the sun in the second quarter with the appearance of its young leaves in the second quarter. Where, it will become a magnificent tree at its zenith. Then will come the period of degradation of the tree or of these leaves. The tree grows on the cycle of the seasons: starts again: the cycle that starts again in the spring... if the tree is still alive... the flowers open. In summer, fruits and vegetables appear. While in autumn the fruits fall. Until eventually, either by letting the tree rest in winter, or it dies.
Among the plants, the passage of a day: is represented by the flower. Which opens in the morning and closes in the evening. A day that at dawn, during six o'clock in the morning: the sun is gaining momentum. He will go to the zenith to dominate matter. Then it ends, going down again, during its six hours of time To the point that it will disappear, behind the horizon. Thus forming the very first quarter of twelve hours. Who created the first clock, which was the sundial. Thus in the fourth quarter, the moon takes its place. Goes made, the same course, in the sky, as the sun. And will spend the last quarter, like all the others, over a period of six hours. Then at midnight sharp, from the first quarter of the day, she will go to bed.
Over a year: will have the same number of months as hours on a clock (due to the sundial). The first quarter is replaced, by the spring. The second quarter is replaced by summer. The third, through autumn and winter, goes to the fourth quarter (which is associated with the act when the heat returns, in the middle of this quarter, or with the change of season).
The four quarters are globally represented by one or more colors: The color pink is the first of the colors. Red (the color of the second quarter) and white (the color of the third quarter) covers their mother. The color of the two threads gives pink. The color symbolizes the sexual act: where the mother goddess, the matter, receives the light. The next color is yellow, the color of the sun. The mother covers it, giving it its color. While the first quarter is that of the earth, brown in color. The color red refers to the scorching sun which associates with the second quarter between the first and second quarter: the color orange; the color of Man. The third quarter bears the color white, that of the sun at the zenith or the color green that of ouroboros. The cycle ends with a quarter of the mother, with for the first part, that of water, which is followed by the second part, which is either in. below is between last and first quarter it wears the color black, the color of death. The color purple is the combination of the color of the second quarter and the first part of the last quarter.
Article
finit: Il aura comme même des rajouts au niveau, des religions: A complèter avec l'article sur les cycles:
Article
ends: It will even have additions to the level, religions: To be completed with the article on cycles:
yeah i rmbr that fans were split and jonghyun winning on shows more than taemin kinda ripped the fandom for a while lol, but its not any of their faults that that happened. eventually taemin was the more successful one, and fans turned it around. saying they hate each other doesnt make sense to...
vigilantcitizenforums.com
Les Hommes utilisent ce qui les entoures, comme les paysages, objets du quotidien et abris pour illustrer leurs observations:
La tente est le tout premier habrit fabriqué par l'Homme. Ayant une forme, inspirer ou non de l'arbre: d'une toile en peaux grossièrement coussus, laissant la lumière du plafond, au sol former une vulgaire, illustration des étoiles, comme à travers le feuillage. Le reste étant bloquer, par les petits morceaux ou les feuilles, soutenuent par des branchages puis par des bâtons de bois. Qui finirent par êtres avec le temps dans certains pays, remplacer par des grottes et plus tard la toile par du tissus (malgrer que les rayons continuent de traverser la surface finement cousus). La grotte ainsi utiliser empèche la lumière de passer sauf à travers sa porte qui mène à l'extérieur et qui grâce au sol, comme n'importe quels habrits englobe ceux qui l'habites ainsi que le feu de bois. Va, comme l'ovule (la matière) faire la même chose, que le spermatozoïde (la lumière). Sur l'Homme, la toile est remplacées par un voile, mais aussi une cape ou toge toutes deux à capuches; séparant la tête du corps.


Dans ses observations: L'Homme va observé, le mouvement en spiral, qui apparait; sous la pomme de pain.



Dans cette observation, baser sur le cycle, les religions:
Chine: Les lions gardiens ou les lions gardiens impériaux sont nommés "shi"; appelés en Occident "lion de Fô" ou "chien de Fô". Le premier représente la déesse-mère qui protège son fils en le couvrant de sa pâte gauche. C'est de cette même main, qu'elle tue son fils, en aspirant l'énergie de celui-ci donnant fin au cycle A l'opposer, le fils recouvre de sa pâte droite la fleur de vie.
Catholicisme: La Vierge Marie s'oppose à la représentation Chinoise, en portant son fils. De même que son fils porte l'astre représentatif de l'univers. Marie va chercher de l'eau, (quatrième quart) puis la nuit (entre le dernier et premier quart), elle est annoncée comme enceinte. Arriver dans l'étable, Jésus est indiqué par l'étoile de Venus (fin du premier et début du second quart).
Egypte: Chaque dieu est associé à un quart de cycle: Au premier quart, le dieu Noun le néant, donne naissance au soleil. celui-ci à trois noms: Au lever, il s'appel Khepri, au Zénith Râ/Ré et Atoum au coucher. Il assèche la "terre" de l'eau (le néant), dégager l'ancienne boue, qu'il a précédemment utiliser pour se créer un corps), il va réhumidifié avec Shou le dieu de l'aire et Tefnout la déesse de l'humiditée (qui vont apparaitres pour la première fois séparer su sol). Atoum ne les voyants plus va pleuré reflet du mauvais temps (le vent refroidissant et l'eau qui retombe, humidifiant l'admosphère, noient la terre. Et va crée les Hommes. Shou et Tefnout créer le chemin de l'eau. Créant une séparation, ils donnent naissances à Geb, le dieu de la terre et Nout la déesse du Ciel. Ils vont alors engendrés "Sion": Osiris, le soleil qui se trouve sous l'horizon, est le dieu des souterains (référence au corps enterrés) et porteur de la couronne blanche (représentatif de l'âme humaine). D'Isis son épouse, déesse du dernier quart. De Seth, le dieu du chaos est le dieu du troisième quart, il est le dieu tueur de la vie. Et Netphys, sa femme, la déesse qui donne la vie.

Les pyramides, ont une base carré: Rejoignant le sommet, la facade symbolise le rayon du soleil, par sa couleur blanche. Alors, que le sommet de forme pyramidale est de couleur or, symbole du soleil. Costruite à l'intérieur, de façon spiral carré, est, lié, au mouvement de la lumière créatrice. Le temps, fonctionnant avec le mouvemment: Exemple: "Si deux personnes ayant régler leurs montre aux même moment et qu'ils prennent deux trains avec une vitesse différentes. Ils auront un millième de seconde de décallage. Ainsi, le soleil est simplement fix dans le second quart. Il est en mouvement, au troisième quart. La où il est lié à l'élément du vent, l'élément qui assèche dégrade rapidement, l'élément alors que le froid le ralentit.

Nordique: Selon leur position dans le ciel, Odin comme Osiris porte un nom différent: Thor est le guerrier de la triade porteur du marteau. Il devient Odin (souvent représenter comme le père de Thor et Loki). Loki est lorsque pour avoir la connaissance, s'accrifie son corps (représenter par le sacrifice de son oeil droit (oeil du côté de Thor, son côté vivant), alors que le côté gauche, est l'oeil du mort, puisque c'elle de Loki). Loki représente l'âme d'Odin, il représente ainsi le magicien. Etant l'esprit il est aussi pansexual, à la différence de son corps (représenter par son corps), qui est lui hétérosexuel.

Indouisme: Le "Hiranyagarbha", signifiant "foetus d'or", ou "ventre d'or". flotait dans le vide, avant de se séparer en deux moitiés: le Dayus (le ciel) et Prithvi (la terre). Donnant naissance à l'univers, dont le soleil parcoura le "Shiva-lingam" qui se compose des trois étages:- Qui démare par "Brahma-Pheetha" la base de la trimurti la triade Indienne des dieux solaires De son nom le dieu "Brahma" représente l'aurore,- la première étincelle de vie Sortant de sa mère, le "Brahma-Peetha" touche terre. Sa lumière va rejoindre le "Yoni" le "vagin" représentatif (associer) de l'univers. Dont la terre (la mère) tourne autour du soleil (le fils), pendant un an et encore plus lorsque le soleil est celui de la galaxie, un niveau représenter par "Vishnou-Pheeta". La lumière finira un jour par s'épuiser et reviendra jusqu'à son point de départ. Détruisant toutes vies, en l'absorbant "Shiva" va rejoindre la lumière et la matière. noir, restaurant le néant, l'oeuf cosmique,. sortant devant les deux autres dieux, d'une colonne de lumière (semblable au pilier, pour soutenir avec le sol, la toile (le ciel)) au niveau de "Shiva-Peetha".



Les Grecs et Egyptiens sont descendent des Sumériens; et les Grecs et Romains.
People use what surrounds them, such as landscapes, everyday objects and shelters to illustrate their observations:
The tent is the very first man-made shelter. Having a shape, to inspire or not from the tree: of a canvas in coarsely cushioned skins, letting the light of the ceiling, on the ground form a vulgar, illustration of the stars, as through the foliage. The rest being blocked, by small pieces or leaves, supported by branches then by wooden sticks. Which ended up being over time in some countries, replaced by caves and later the canvas by fabric (although the rays continue to cross the finely stitched surface). The cave thus used prevents light from passing except through its door which leads outside and which thanks to the ground, like any other dwelling, includes those who inhabit it as well as the wood fire. Will, like the ovum (matter) do the same thing, as the sperm (light). On Man, the canvas is replaced by a veil, but also a cape or toga both with hoods; separating the head from the body.


In his observations: Man goes observed, the spiral movement, which appears; under the bread apple.



In this observation, base on the cycle, the religions:
China: Guardian lions or imperial guardian lions are called "shi"; called in the West "lion of Fô" or "dog of Fô". The first represents the mother goddess who protects her son by covering him with her left paste. It is with this same hand, that she kills her son, by sucking the energy of this one giving an end to the cycle. Opposite him, the son covers the flower of life with his right paste.

Catholicism: The Virgin Mary opposes the Chinese representation, carrying her son. Just as his son carries the representative star of the universe. Marie goes to fetch water, (fourth shift) then at night (between the last and first shift), she is announced as pregnant. Arriving in the stable, Jesus is indicated by the star of Venus (end of the first and beginning of the second quarter).

Egypt: Each god is associated with a quarter of a cycle: In the first quarter, the god Nun the nothingness, gives birth to the sun. this one has three names: At sunrise, it is called Khepri, at the Zenith Râ / Ré and Atum at bedtime. He dries up the "earth" of the water (nothingness), clears the old mud, which he previously used to create a body), he will re-humidify with Shou the god of the air and Tefnut the goddess of humidity (which will appear for the first time to separate from the ground). Atum, no longer seeing them, will cry reflection of bad weather (the cooling wind and the falling water, humidifying the atmosphere, drown the earth. And will create Men. Shou and Tefnut create the path of water. Creating a separation, they give birth to Geb, the god of the earth and Nut the goddess of the Sky. They will then begotten "Zion": Osiris, the sun which is under the horizon, is the god of the undergrounds (reference to the buried body ) and bearer of the white crown (representative of the human soul) Of Isis his wife, goddess of the last quarter Of Seth, the god of chaos is the god of the third quarter, he is the killer god of life. And Netphys, his wife, the Goddess who gives life.

The pyramids, have a square base: Joining the top, the facade symbolizes the ray of the sun, by its white color. So, that the top of pyramidal shape is of gold color, symbol of the sun. Costruite inside, in a square spiral fashion, is linked to the movement of creative light. Time, working with movement: Example: "If two people having set their watches at the same time and they take two trains with different speeds. They will have a thousandth of a second shift. Thus, the sun is simply fixed in the second quarter It is in motion, the third quarter where it is linked to the element of wind, the element which dries up quickly degrades, the element while the cold slows it down.

Nordic: Depending on their position in the sky, Odin like Osiris has a different name: Thor is the warrior of the hammer-carrying triad. He becomes Odin (often portrayed as the father of Thor and Loki). Loki is when, in order to have knowledge, his body becomes self-confident (represented by the sacrifice of his right eye (eye on Thor's side, his living side), while the left side is the eye of the dead, since it is her from Loki). Loki represents the soul of Odin, he thus represents the magician. Being the spirit he is also pansexual, unlike his body (represented by his body), which is heterosexual.

Hinduism: The "Hiranyagarbha", meaning "golden fetus", or "golden belly". floated in the void, before separating into two halves: the Dayus (the sky) and Prithvi (the earth). Giving birth to the universe, whose sun traversed the "Shiva-lingam" which is made up of three floors: - Which demarcates by "Brahma-Pheetha" the base of the trimurti the Indian triad of solar gods From his name the god " Brahma "represents the dawn, - the first spark of life Coming out of its mother, the" Brahma-Peetha "touches the earth. Its light will join the "Yoni" the representative "vagina" (to associate) of the universe. Whose earth (the mother) revolves around the sun (the son), for a year and even more when the sun is that of the galaxy, a level represented by "Vishnu-Pheeta". The light will eventually run out and return to its starting point. Destroying all lives, absorbing it "Shiva" will join light and matter. black, restoring nothingness, the cosmic egg ,. coming out in front of the other two gods, from a column of light (similar to the pillar, to support with the ground, the canvas (the sky)) at the level of "Shiva-Peetha".



The Greeks and Egyptians are descended from the Sumerians; and the Greeks and Romans.
Last edited: