Joined

Mar 1, 2021
Messages

1,171
Well I remember that saesang that armys called "no pants girl" and she stalked them on flights etc. I heard that bh allowed some of the groups very rich "fans" get to be near them at a price. Looking at these photos and it's believable. In the last pic you can actually see where the normal fans aren't able to get too close and then there is the saesang looking like an 8th member. Shady business all around.
Excellent find! They're full of shiitake too. Fans have made videos complaining about her, and most are international fans. Their Korean fans know what's up. If she wasn't paying for this, she'd end up like these people.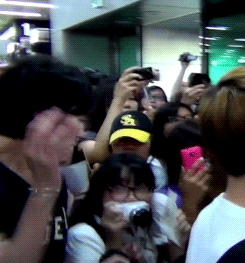 Tried to find the one of the girl getting punched in the face, but it's scrubbed.